Another "time saver," the Instant Egg Peeler. It's as easy as rummaging through a drawer, screwing onto a faucet, placing a pan of water in the sink, collecting the peeled eggs in the pan, emptying out the pan, unscrewing the Egg Peeler from the faucet, disassembling the Egg Peeler, dumping the shells, washing, drying, and reassembling the Egg Peeler, and storing the Egg Peeler back in the drawer. Instant! So instant, in fact, the eggs will probably still be fresh by the time you've finished the 24 or so easy steps.
Here's a similar device, the Eggstractor, which was apparently designed by Dr. Seuss, as evidenced by the accordian-like structure. This animation shows the Eggstractor in action: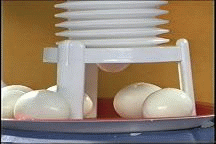 Are the white gloves included? Perhaps if you order now. Ordering "now," of course presents formidable cosmological challenges which we'll address at a later time. Suffice it to say that I could easily forgo the gloves if the device made a squeaky noise when in use. It looks like it ought to at any rate.